Tags are the easiest way to capture your understanding of a supplier for your own reference and communicate it to the rest of your company. They also give you immediate insight into what the supplier does and what they are known for by your company and other similar companies.

Tags are used in Tealbook to identify:
Goods and services offered by a supplier.
Features that differentiate the supplier's unique value proposition.
Enforcing Tags
It is important to enforce tags to help promote certain service offerings that the supplier is known for, as this helps raise the relevance in search results. Below is a guide on how the tagging system works in Tealbook.
Tags shown in dark teal have been reinforced by you.
Tags in light teal have been enforced by your colleagues.
Tags with a number next to them have been reinforced by others.
Tags with no number have not been reinforced.
If you don't see a tag you want to enforce, type it into the area below the tags. When you are done, press Enter. You can enter multiple tags simultaneously by separating them with commas.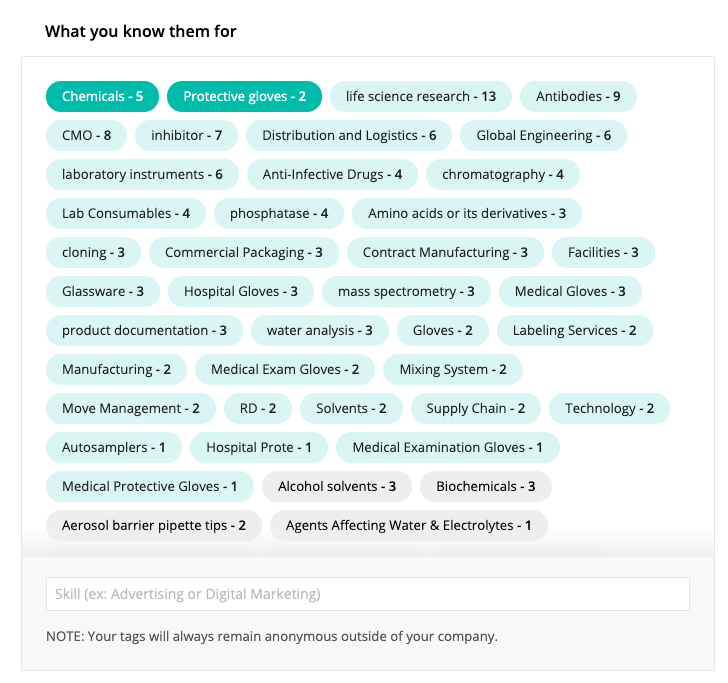 Privacy Information​: Tags are shared anonymously outside your company; neither the author nor the author's company information is published. The identity of the author of the tag is only visible within their company.