The Spend insight page allows the user to select a year, view spend for that year summarized by category, and drill into details. The dropdown shows all the years of spend that have been loaded for an organization. In order for this page to populate, the client needs to provide tealbook with spend and category information.
Selecting a Date Range
The page defaults to the last loaded spend period. To change the date range for the report, drag the start and end date dots on the timeline control to cover the period you wish to view.
Hiding and Showing Filters
You can collapse or expand the filters to apply to spend using the Expand and Close filters control.
If you have set a filter, the indicator will change to green.
Filter by Category
The Supplier Categories filter allows you to view the breakdown by category as a table or pie chart and then limit the details to one or more categories.
Click the pie chart icon to toggle between the table and pie chart views.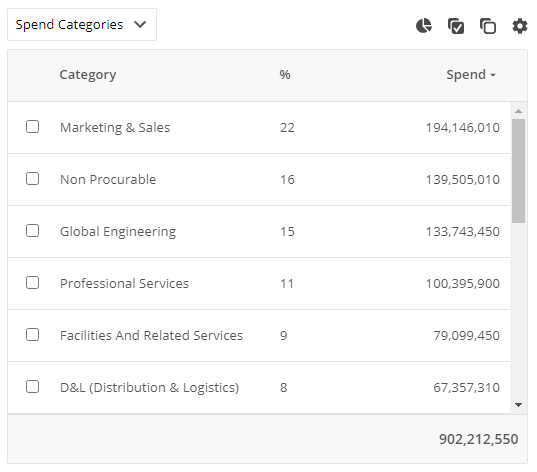 Filter by Business Unit
To change from the Category filter to a business unit filter, click the dropdown that shows Supplier Categories and select Business Units.
Filter by Countries
You can view the total spend by country either in a table or pie chart and then click on the country or countries you want to limit the spend details to.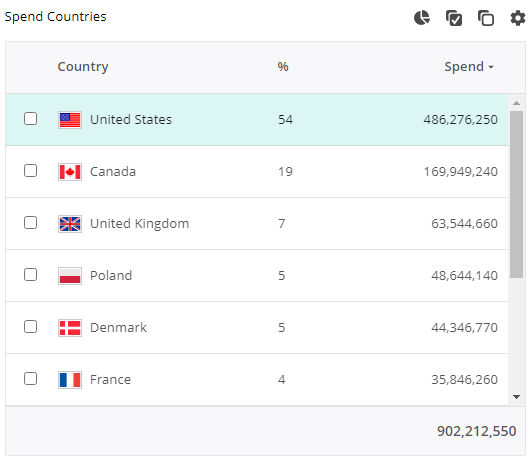 Note:
Supplier ID varies from profile to profile. In the case of a buyer organization requesting spend information, the supplier i.d is usually their own. They determine which I.D. each of their suppliers is labeled with.