There are several ways to raise your profile in TealBook to help be more discoverable to potential buyers.
Below are some key ways to help:
The first area to start with is your company's profile. Here you should update and add as much current information. Click on the "pencil" icon to the right of the screen to start editing. You can update the following:
Company name

Linkedin URL

Company description (Note: this is a key area as buyers can search by "description," so adding as much detail about your company will help raise your profile to the top of search results).

Social Networking Sites URL (Facebook, Twitter, and Instagram)

Supplier Diversity Program
Note: If you would like to change your website address or add a different domain, you will need to reach out to our support team to do so.
About Us
It is important to add what your company is about to provide potential buyers insight into your overall business in this area. You can add a "Pitch Deck" to provide additional collateral for review for the potential buyers' consideration.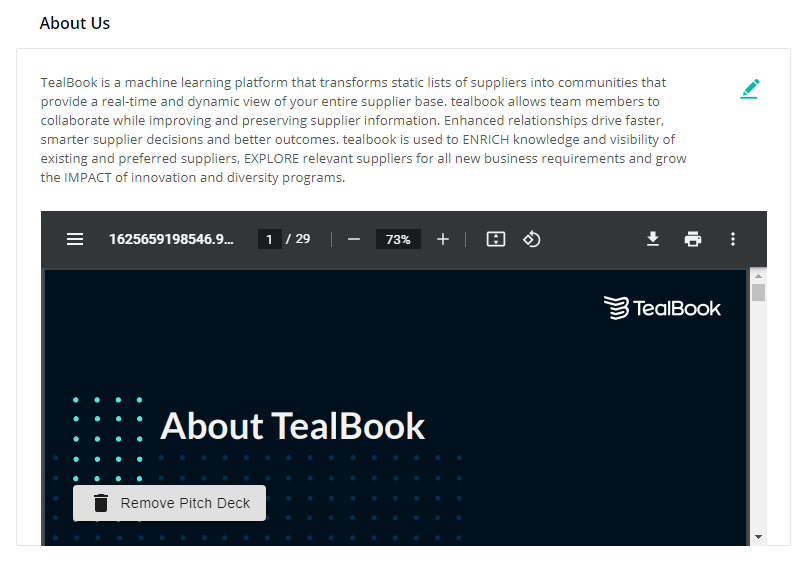 Corporate Information
Along the side is a panel that provides a snapshot of your companies corporate details.
Parent Company Name: If you are a sub-company, you can list the parent company name you are associated with.
Number of Employees: Total number of employees overall.
Annual Revenue: The total amount of money made by sales or services in a given year before costs or expenses are taken out.
Year found: When the company started.
DUNS#: The Data Universal Numbering System by Dun & Bradstreet assigns a unique numeric identifier to a single business entity.
Tax ID: A identifying number used for tax purposes in the United States and other countries under the Common Reporting Standard.
LEI: The Legal Entity Identifier is a unique global identifier for legal entities participating in financial transactions.
NAICS code: A classification within the North American Industry Classification System. (

Note: this is a searchable classification and will be helpful for potential buyers when they enter this as a searchable filter

)
Service Areas
It is important to indicate if your company can provide business globally or only in certain areas. Some potential buyers may look for companies in specific areas or look for local businesses to help diversify their supply chain.
You can select either "Global" or "Specify." By selecting "Specify," please indicate the service area. You can add multiple service areas.
What we are known for - "Tags"
A key area of optimizing your company profile is "Tags." TealBook automatically populates this area through machine learning and tags your company with keywords that describe what your business offers or is known for. You can add additional "Tags" should you not see one, and this will help potential buyers when they perform their searches in TealBook to identify your company with the tags attached to what you are known for.
What differentiates us
This section allows you to add further tags that really make your company stand out! These should be unique such as a special qualification like ISO certification, community leader, or top corporate culture. Many of our enterprise buyers will look for these qualifications when considering new contracts to reward their business to match their own corporate philosophies or goals.
Locations and Our Team
Another key area is your business locations and team contacts. TealBook clients are most interested that the information in this section is accurate and up to date when trying to discover new suppliers to work with.
Locations: You can easily add as many locations by clicking on the address field, which will allow you to add the name of the company, address, phone number and mark this as a "Primary Location."
Our Team: You can add contacts to appear on the company profile so that potential buyers can reach out as needed.
Note: If you would like to add a team member with a different domain in their email address, you will need to reach out to our support team.
Qualifications
This section allows you to identify your company as diverse. Many corporations are looking for diverse qualified companies to work with as part of their corporate initiatives, and more government bodies are encouraging these corporations to work with diverse companies.
TealBook also has a self-certification program whereby you can identify your company as diverse. Learn more about this from the "Self-Certification" article.
Resources
You can add supplemental resources that you think will help give your company the full story. TealBook allows you to do the following:
Video: You can add a video URL about your company.

Blog: You can add a URL to your blog.

Our Customers
A great way to increase your credibility is by reaching out to the existing network that you are already in TealBook to verify you.
To do this, you can type in the company's name to add them to your list.

Click on the "Get Verified" button.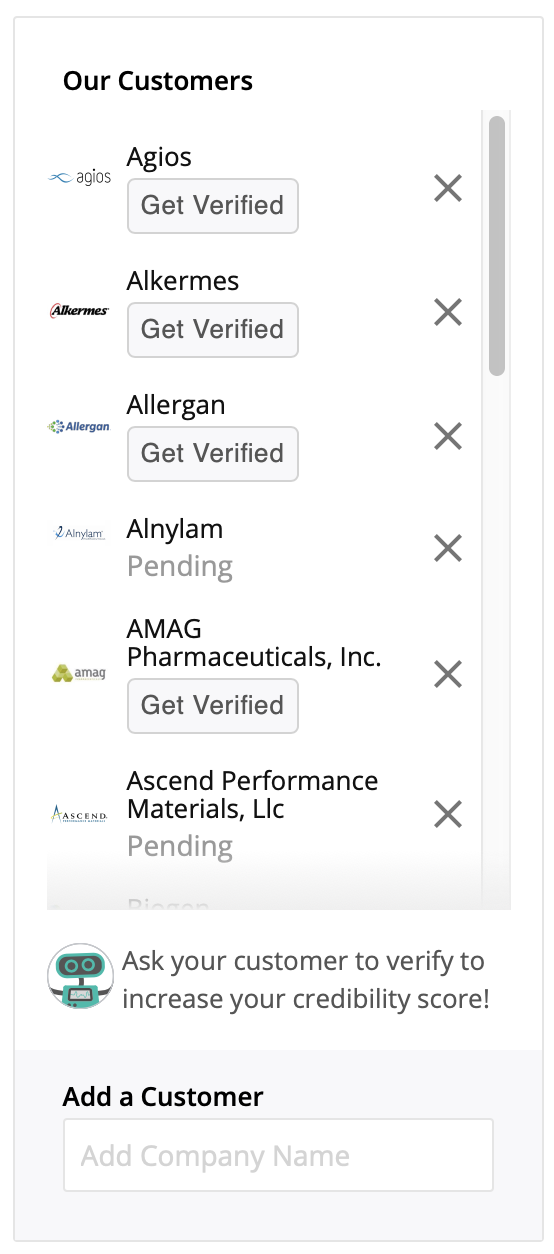 This will open another window where you can add your contact's name, email, and a short message asking them to verify your company.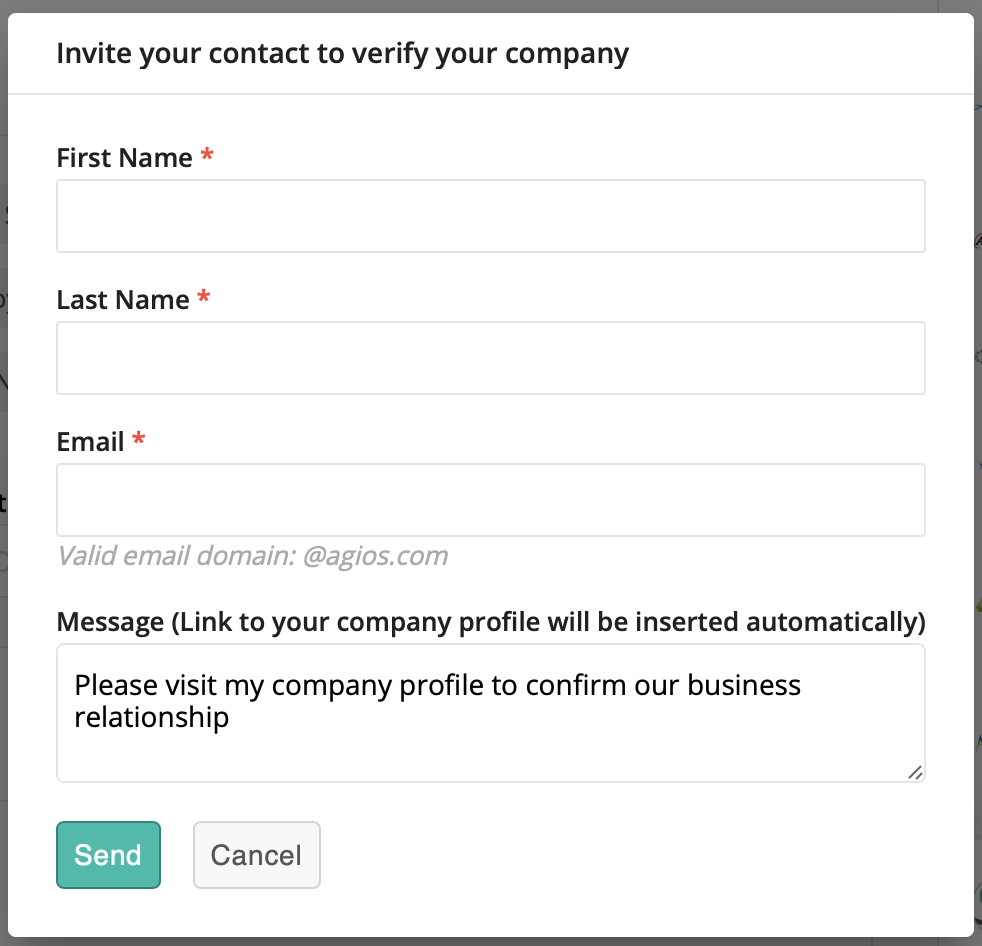 Once you click send, the status will change to "Pending" until your contact verifies you in TealBook.
Once your contact has verified your company, the status will show a checkmark.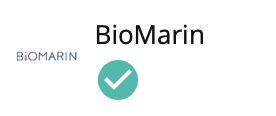 Profile Completeness
You can check on how complete your profile is with our "Profile Completeness Scale."
*For newly created profiles, changes you made have been automatically saved. You can continue to edit and change the information by selecting the "pen/edit" symbol on the right-hand side of the page. Save button is available only on parts wherein there is a "pen/edit" symbol.
Should you have further questions on optimizing your profile to help potential buyers find your company, please reach out to a representative at support@tealbook.com.