To be a vendor supplier of choice, joining communities is one way to give you greater exposure and exclusivity with potential buyers. Tealbook offers communities to allow selected vendor suppliers to be part of a preferred network. News, updates, and potential invitations to RFI can be announced in communities.
Communities Main Page
On this page, you will see different statuses:
Invited: These are communities where you have been specifically invited by the company that manages the community. The invitation shows strong interest from them in keeping connected to your company.
Recommended: These are communities that are available for any supplier to join. Pick the ones that apply to your business.
What is Communities in tealbook
Communities are groups of companies interested in doing business together, usually related to a specific type of vertical or relationship. tealbook clients can join communities and create their own communities to help them manage communications with suppliers.
Most tealbook clients have a community for their existing suppliers. This makes it simple to direct posts to existing suppliers and monitor their activities.
Community Forms
Any community can have a form associated with it. All suppliers who join that community will be asked to complete that form and their answers will be made available to the tealbook client who created the community. This is a great way to get up-to-date information from suppliers and link it directly to their supplier profiles in tealbook.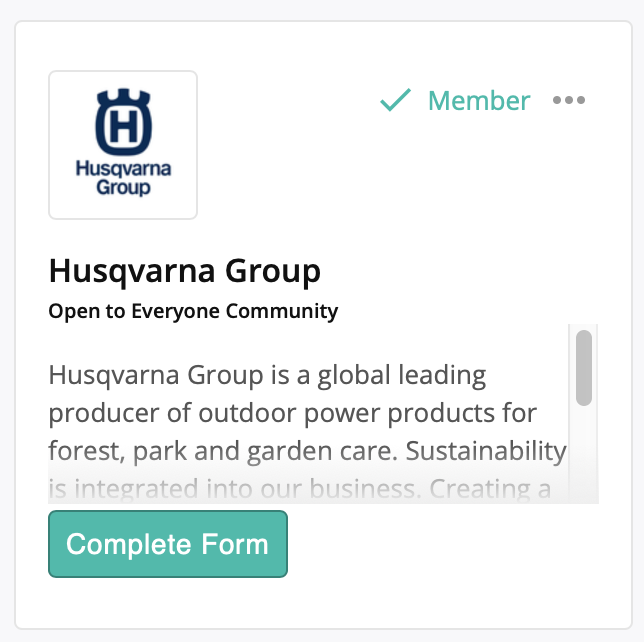 Community Details
Click on the name of a community to see the details about it. This will show you a list of all the companies that are members of the community.
You can then go into any of the supplier member profiles and add a specific pitch, see who the point of contact is, and what other communities they are a part of.
Questions? Feel free to reach out to a representative at tealbook to find out more ways to help with optimizing your company profile!