The Sustainability Report is a TealBook feature that allows organizations to delve deeper and better understand the impacts of their supply chain on their corporate environmental, social, and governance (ESG) performance. This feature evaluates suppliers' ESG qualifications and sustainability efforts. TealBook's Sustainability Report puts buyers' spend data to work, providing greater insight into organizations' ESG performance and empowering buyers to make procurement decisions that align with their ESG goals.
The sustainability report can be accessed through the Buyer portal by clicking Insight on the navigation bar and selecting the Sustainability Report tab.

The Sustainability Certification Spend page within the Sustainability Report tab displays your organization's sustainability spend for the selected time period. Data in this tab is based on your spend with ESG qualified suppliers.
The main dashboard allows you to select a time period on the timeline and displays your total spend for the selected time period. The data below the timeline shows summaries of your total sustainability spend as well as your total spend based on your suppliers' sustainability qualifications.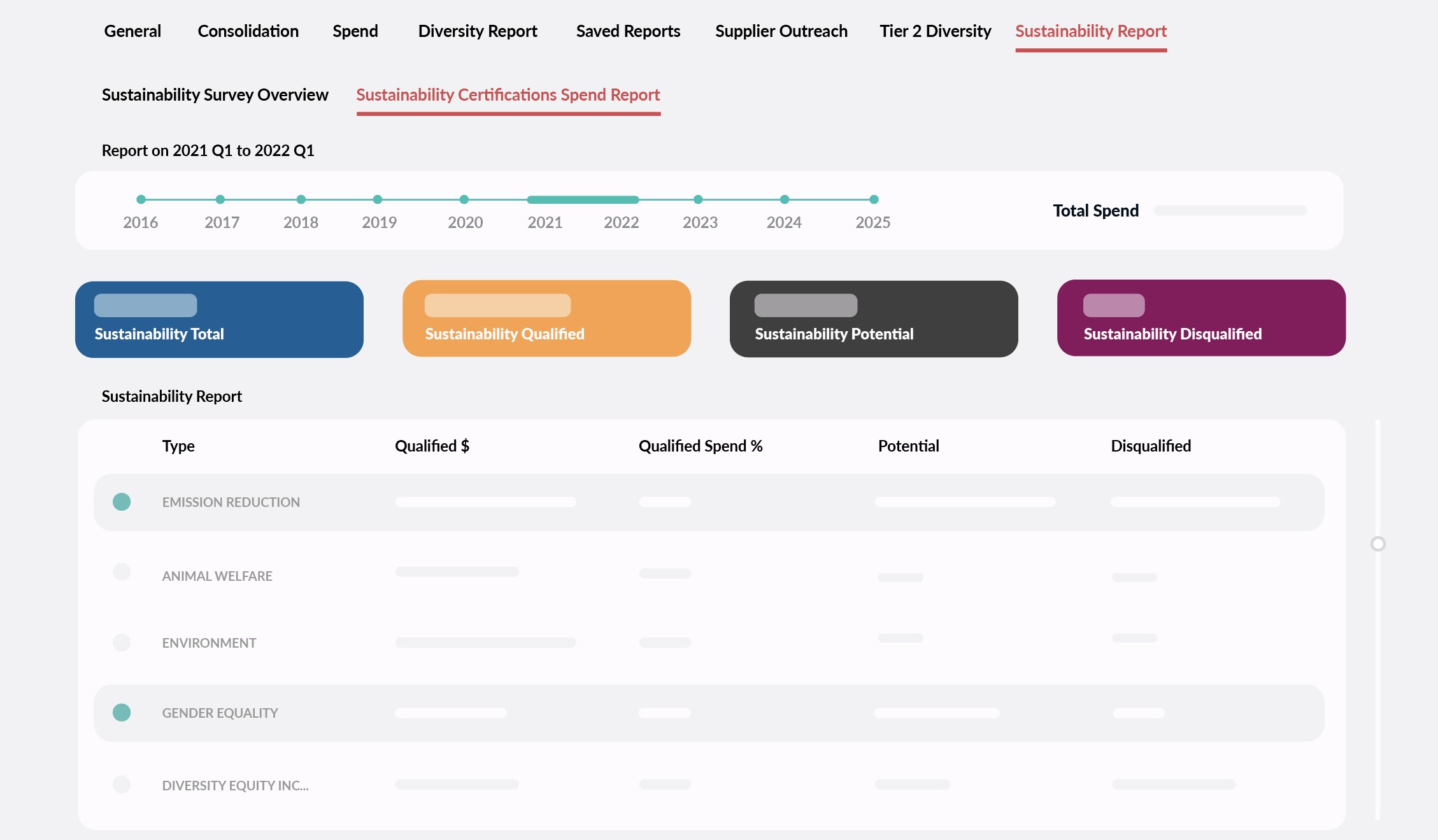 The summary data includes:
Sustainability Total — your total spend with ESG certified suppliers. This includes your qualified, disqualified, and potential sustainability spend.

Sustainability Qualified — your total spend with ESG certified suppliers whose certifications are valid.

Supplier certifications are considered valid when they have not expired or when your organization qualifies them using the Verify option.

Sustainability Potential — your total spend with ESG certified suppliers whose certifications are no longer valid, but who may still hold certifications that have not been disqualified by your organization.

Supplier certifications become invalid when your organization disqualifies them using the Verify option.

Sustainability Disqualified — your total spend with companies that your organization has disqualified using the Verify option in the Spend details section.
Sustainability report by subtype
The Sustainability report section shows a breakdown of your spend per sustainability certificate type. It shows data specific to each subtype including:
Your qualified spend.

The percentage of your spend.

Any potential spend.

Total spend that you've disqualified through the Verify function in the Spend details table.

Spend details
The spend details table displays your organization's spend details per supplier. It includes the supplier's ESG certification type, the agency that issued the certification, and the expiry date of each certificate. It also gives you an option to verify whether or not the supplier indeed qualifies for the ESG certification that is displayed in the table.
The Verify option allows you better control of the types of qualifications that count towards your sustainability spend report. When you disqualify a supplier using the Verify option, your spend with that supplier will no longer be included in your sustainability spend reports.